Tashi Delek!
Welcome to Tibetan Life's E-Zine
---
Tibet Is Burning!
I have a heavy heart as I write this issue of Tibetanlife. The 11th Tibetan this year has just set themselves on fire this morning, the second nun to do it. As a Buddhist, I believe it is not good to commit suicide but it is clear that the Tibetans in Tibet are desperate and beyond frustrated. They have been peacefully protesting against Chinese oppression and genocide for 60 years but the world continues to ignore them.

Read more about Tibetan self-immolation and tell us what you think here.


---
Follow us on Facebook or Twitter


---
Questions & Answers
Each month, The Tibetan Life e-Zine is created by you with the questions you send me. Do you have a question, comment, or something else that you would like to share with our growing community of Tibetan Life fans?




Recent questions which have been answered:
Is it possible to get a Tibetan Tattoo written in a circle?
My Tibetan Dog just died. I want to share my journey with this remarkable companion.
I want to get a Gemini Tattoo, what's that in Tibetan?
I want to make a fabulous web site like yours. show me how.
I want to share my opinion about Tibet. Where can I do this?
---
A Short Tibetan Buddhist Teaching...
A Human Approach to World Peace
By HH The Dalai Lama
When we rise in the morning and listen to the radio or read the newspaper, we are confronted with the same sad news: violence, crime, wars, and disasters. I cannot recall a single day without a report of something terrible happening somewhere. Even in these modern times it is clear that one's precious life is not safe. No former generation has had to experience so much bad news as we face today; this constant awareness of fear and tension should make any sensitive and compassionate person question seriously the progress of our modem world.


It is ironic that the more serious problems emanate from the more industrially advanced societies. Science and technology have worked wonders in many fields, but the basic human problems remain. There is unprecedented literacy, yet this universal education does not seem to have fostered goodness, but only mental restlessness and discontent instead. There is no doubt about the increase in our material progress and technology, but somehow this is not sufficient as we have not yet succeeded in bringing about peace and happiness or in overcoming suffering.


We can only conclude that there must be something seriously wrong with our progress and development, and if we do not check it in time there could be disastrous consequences for the future of humanity. I am not at all against science and technology—they have contributed immensely to the overall experience of humankind; to our material comfort and well-being and to our greater understanding of the world we live in. But if we give too much emphasis to science and technology we are in danger of losing touch with those aspects of human knowledge and understanding that aspire towards honesty and altruism.
Read more...


---
Tibetan Tattoo Of The Month!

Check out this month's gorgeous Tibetan Tattoo!
If you would like to see your own Tibetan tattoo in this space then send it along with the story of how you got it and why!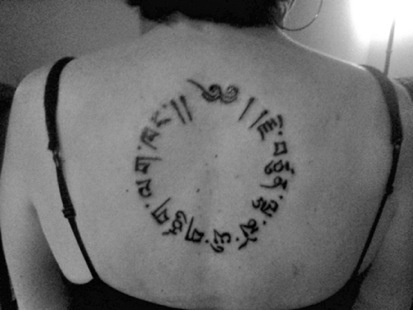 Click on the pic to see the translation.
---
Tibetan Tattoo Translation Of The Month!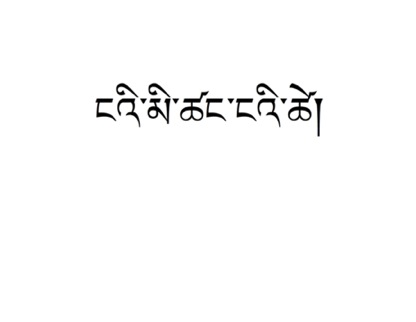 This month's translation is 'My Family, My Life'. Thanks for the request Rebecca! Please send us a pic when you get your tat done!



If you would like to see your first name or a favorite word written in Tibetan here in the Tibetan Life e-zine, just ask. Every month a different one will be featured...


---
Tibetan Tattoos Sacred Meanings And Designs
Now Available In Paperback At Amazon. On sale for a limited time only - $8.99!
Tibetan Tattoos Sacred Meanings And Designs Paperback On Amazon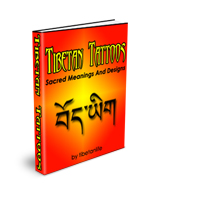 Tibetan Tattoos Sacred Meanings And Designs Ebook is now 108 pages and the price is now only $16.99!

Click here to order.

And remember...if your name is not in it, I will translate it for free!

Usually tibetan translations cost about $20 for 1 to 3 words so this e-book chock full of translations and designs is a fantastic deal!




---
Want can you do to help Tibet?
Check out the following web sites and take action!


Students for a Free Tibet

International Campaign for Tibet

Tibetan Centre For Human Rights And Democracy


---
If you would like to know how...
I made this fantastic web site all by my non-geeky self, click out the banner below...