Losar Tashi Delek
Welcome to Tibetan Life's E-Zine
---
We humbly wish you a Losar Tashi Delek, and best wishes for the Tibetan Water Dragon Year 2139.
Losar Tashi Delek!

The word Losar is derived from two words, "Lo" meaning "year" and "sar" meaning "new." For centuries, Losar, Tibetan New Year has been a time of celebration, a time for families to come together and be thankful for their blessings, for religious faith to be honored in prayer and a time when neighbors and friends greet each other with "Losar Tashi Delek!" or (Best wishes for an auspicious New Year!").

But this year's Losar is marked with sorrow, with repression in Tibet reaching new lows, so it will be observed as a time for quiet reflection and tribute to all those Tibetans who have sacrificed their freedom and even their lives in protest against Chinese policies in Tibet.

We humbly wish you a Losar Tashi Delek, and best wishes for the Tibetan Water Dragon Year 2139.

Read the Tibetan Prime Minister's Losar Request or watch the video on You Tube here.


---
Follow us on Facebook or Twitter


---
Questions & Answers
Each month, The Tibetan Life e-Zine is created by you with the questions you send me. Do you have a question, comment, or something else that you would like to share with our growing community of Tibetan Life fans?




Recent questions which have been answered:
Can you tell me about trul-kor yoga?
I'm doing a school report and need Dalai Lama quotes.
My friend said that they love 'Sha Baley', do you know what that is?
Where can we get clothes that show we support Tibet?
---
A Short Tibetan Buddhist Teaching...
The Shortcomings of Harmful Thoughts
By Kyabje Lama Zopa Rinpoche
The whole purpose of whatever we do is to make ourselves better; to have a better life and to become better people. We can become better people by changing our mind. Only by changing our mind can we become good people and have a good life. If we don't change our mind by trying to recognize which thoughts give harm and which bring only peace—if we keep the same mind as we had before, we can never improve ourselves.


If we do not try to change; if we constantly keep the same harmful thoughts all the time, then our mind doesn't change and our life doesn't change. We can never become better people, even if we have received the whole teachings, the whole Buddhadharma.


Only transforming the mind—changing the mind from one full of harmful thoughts into a good mind—only that brings peace to ourselves and to other sentient beings. By changing this, our negative personality changes. Renouncing the mind of the harmful thoughts, we no longer have a bad personality—we have a good personality. That's how we become good people and have a happy life, free from confusion. Then we have a meaningful life. This is what the teaching on meditation does.
Read more...


---
Tibetan Tattoo Of The Month!

Check out this month's gorgeous Tibetan Tattoo!
If you would like to see your own Tibetan tattoo in this space then send it along with the story of how you got it and why!


Endless Knot courtesy of Luke Wolokh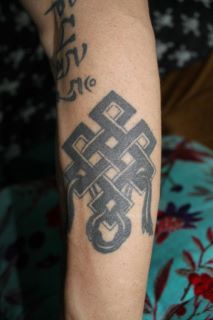 ---
Tibetan Tattoo Translation Of The Month! 'Free Tibet'
If you would like to see your first name or a favorite word written in Tibetan here in the Tibetan Life e-zine, just ask. Every month a different one will be featured...


---
Tibetan Tattoos Sacred Meanings And Designs
Now Available In Paperback At Amazon. Only $12.99
Tibetan Tattoos Sacred Meanings And Designs Paperback On Amazon

Tibetan Tattoos Sacred Meanings And Designs Ebook is now 108 pages and the price is now only $16.99!

Click here to order.

And remember...if your name is not in it, I will translate it for free!

Usually tibetan translations cost about $20 for 1 to 3 words so this e-book chock full of translations and designs is a fantastic deal!




---
What can you do to help Tibet?
Check out the following web sites and do your bit to help save Tibet.


Students for a Free Tibet

International Campaign for Tibet

Tibetan Centre For Human Rights And Democracy



---
If you would like to know how...
I made this fantastic web site all by my non-geeky self, click out the banner below...