Funny New Years Resolutions
My Tibetan New Year Party
We went to our first Tibetan new years (Losar) party in Toronto. There is a large Tibetan population here. We have made some good friends; some new people, some we met in Dharamsala and some my husband, Gelek knows from Amdo, Tibet.
The party was full of traditions, great food, funny new years resolutions and lots of pictures.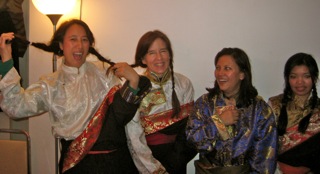 Funny new years resolutions being made...
(that's me, second from the left having my braid pulled!)


Traditional Tibetan Chubas as seen in this photo are unique and very beautiful. These are from the region of Amdo. Every region or province has their own style. My husband's family sent us real sheep wool chubas and they were so heavy, I could barely walk while wearing it. We left them in Dharamsala with Gelek's cousin as there was no way we could take them with us!
If you ever get the chance, Tibetan people are fantastic to party with. They are very jolly and always laughing about something. I don't think new years resolutions are done on the Tibetan plateau or it's something they adopted in the west but some were pretty funny. This year, I will let my yak stay up and watch tv as late as he wants... This year I pledge to not get too fat...again. This year, I will try to promise to really make a bit of an effort to try to...(that was it!)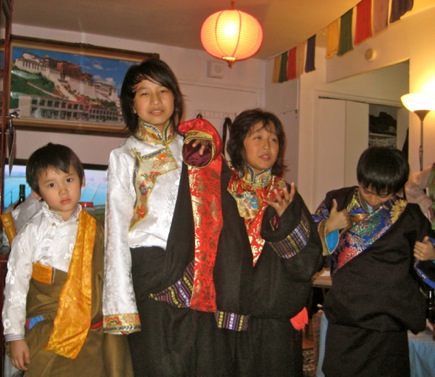 Tibetan children are very important in their culture. The kids are usually the center of attention where ever they go. Unlike many other societies most men pay great attention to the younger ones, no matter who they belong to. Therefore the Tibetan child grows up loved, confident and used to being cuddled and played with.
I always found it interesting to watch the differences with foreign children visiting Dharamsala (India). The Tibetans see a child (especially one with 'yellow' hair) and naturally want to grab and play with them. The reactions range from horror to a great curiosity. The foreign parents of course find it pretty funny to watch their child in this kind of new situation.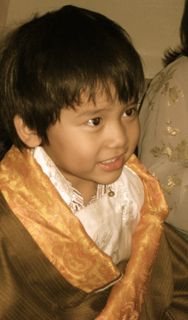 Return From Funny New Years Resolutions To Tibetan New Year

Return From Funy New Years Resolutions To Tibetan Life Homepage

Chair Yoga | 14th Dalai Lama | Chair Exercise Video | Wise Short Quotes