Buddhist Meditation Beads
One of the essential tools for meditation
Buddhist Meditation Beads, Rosaries or Malas are essential tools for the serious meditation practitioner. These are also known as Tibetan prayer beads.
The history of Rosary beads goes back thousands of years. Each of the four major world religions uses them including Islam.






Malas are used during mantra recitations mostly but can also be useful to hold on to during other types of meditations and techniques to keep one's awareness on the job at hand.

I have a particular fondness for malas and have been collecting them during my travels around the world over the years. Here are pictures of my favorites.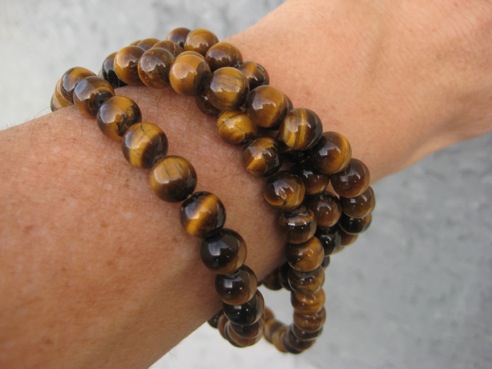 Tiger Eye Buddhist Meditation Beads
This semi precious Tiger Eye is a very beautiful mala. His Holiness the Dalai Lama has been photographed many times wearing this kind.

Stones get very cold in winter so I tend to use wooden malas in winter and stone malas in summer.

In the Tibetan communities you can find interesting Yak bone malas of all shapes, sizes and colors. In the Hindu tradition you can find some really wild malas of huge seeds and really long ones also.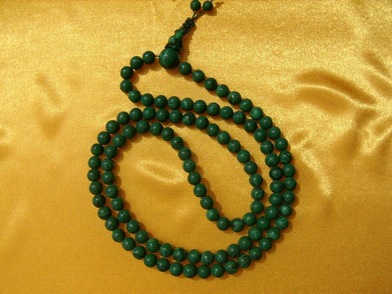 Malachite Beads that I use in daily practice.
Each stone has different meanings and are used for different sadhanas or practices. I had a malachite mala like this one made especially because I find it incredibly beautiful and fun to play with! I think it's important to use something that you really love and makes you happy so that you will want to sit down and practice! We all know how difficult that can be sometimes!

I had a nice man in BodhGaya, India make mine with hand cut crystal counters at 21 on each side as that is what is most useful to me. I also had him put one on half way through the 108 bead mala so that when I get distracted I can know where I got to!

Using a malachite mala is supposed to bring harmony into one's life.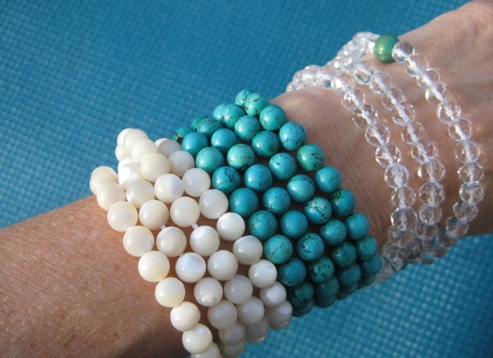 Mother of Pearl, Turquoise and Crystal Buddhist Meditation Beads
Mother of Pearl helps one accept others by cleansing blocks, cleansing and purifying.

The Turquoise prayer beads were given to me by a Tibetan friend as a parting gift from India. Turquoise is a very important stone in Tibetan society. It is the stone of wisdom and spiritual journeys.

The last mala is quartz crystal which is an energizer and amplifier, a multi-purpose healing stone. You can get machine cut or hand cut which are a little more expensive of course. I prefer the hand cut as the surface on the stones are flatter and sharper and much more beautiful.



Meditation Quotes...
"Whether we sit with our arms folded this way and our legs crossed that way is of little consequence. But it is extremely important to check and see if whatever meditation we do is an actual remedy for our suffering."
Lama Thubten Yeshe






Return from Buddhist Meditation Beads to Tibetan Life Homepage

Buddhism | Tibetan Yoga | Reiki | Symbols | Dalai Lama | Translation