Tibetan Monks Chanting
A delightful and soothing experience!
A large group of Tibetan Monks chanting loudly in unison is the most beautiful thing I have ever heard in my life. It fills me with joy and complete peace every time.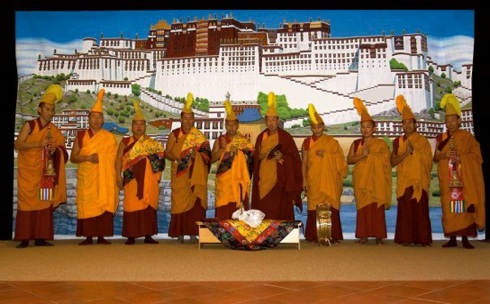 The video below shows Tibetan Buddhist Monks chanting prayers at the Holiest Buddhist pilgrimage site on earth in BodhGaya, India. This is where Shakyamuni Buddha attained enlightenment 2500 years ago.

The Tibetan Monks Chanting is also called Tibetan throat singing. Buddhist prayers, mantras and the names of the Buddhas are sung like this. Some monks in the monasteries who lead the chants called 'Umzeys' develop very deep throaty voices because of this.

BodhGaya is an incredibly vibrant town with Buddhists converging on it continuously from all over the world. It is an unforgettable adventure that everyone must experience at least once in their lives.

Dharmasala, being so cold in the winter was always a wonderful excuse to escape to BodhGaya to enjoy the holy chaos!







After I became a Buddhist in 1995 at Kopan Monastery in Nepal, I immediately set out for BodhGaya, which was a two day journey by bus. I wanted to see the actual place where the Buddha had attained enlightenment. I wanted to mediate on the exact spot.

When I arrived, I followed the signs and found the Mahabodhi Stupa Compound and inside it, the exact place where the Buddha had sat under the Bodhi tree. The tree that is there now came from part of the original tree. There was a kind of cement platform about two feet high erected called the Diamond Throne on the spot. There were a few offerings laid out but just enough room for me. So up I climbed.

I made myself comfortable and was just settling into a peaceful attempt at meditation when there was a very loud shriek behind me. I turned and saw that there were two Sri Lankan monks behind me speaking rapidly and gesturing wildly.

What on earth were they going on about?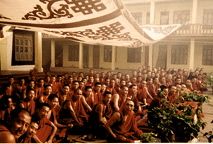 I soon found out that this throne was considered sacred and they were aghast that I had dared to place my unholy bottom upon it. I was quite embarrassed to say the least and slipped away from there pronto.

Even though I felt a bit upset at my public humiliation, I secretly felt pleased that I had indeed accomplished my mission...!

What a naughty girl i am...



To hear some very nice chanting of Om Mani Padme Hum, click here.




---
Yes, Tibetan Nuns do chant also but it is a very different higher pitched sound that usually my sensitive ears can't handle. Many people do love it though. I will write more on the Nuns soon.
---
Article about a Tibetan Monk

Return from Tibetan Monks Chanting to Homepage

About Me | Blog | Translation