Tibetan Buddhist Nuns in Nepal - Daughters of Dolma - A Documentary Film
by Stefan Salow
(Scotland)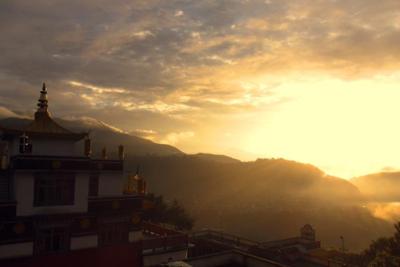 A little more than a year ago, I joined together with five other international university students to make a documentary film about the life of Tibetan Buddhist Nuns. Nuns were a group so underrepresented compared to Buddhist monks, with almost no coverage in film and other media, so we had the ambitious idea to make the best documentary in this field. We decided to call it Daughters of Dolma.


The team consisted of our project leader, Alex Co, our director, Adam Miklos, a field supervisor, Katarzyna Bylow, our lead researcher, Nadezhda Buhova, our translator and and cultural resource, Tenzin Dolma, and me, the productions manager, Stefan Salow.
Our interest in Tibetan Buddhism comes from different places - for some it is the religious belief and for others the interest in culture. But what we knew and agreed upon was that we wanted to show the life of Tibetan Buddhist nuns to as many people as possible.
So this summer we rented our film equipment, packed our bags, and moved into a Tibetan Buddhist nunnery in Nepal. Living with the nuns meant we could get to know them on a more personal level and show their more individual thoughts and ideas, not just red robes and meditation. We found that the nuns were in fact very similar to us, only having chosen a different way of life.
We were invited into their homes, shared food with the nuns, talked about their childhoods, future plans, and families. We met three generations of nuns, of all ages, and made some great friendships. And this is an experience we are unlikely to ever forget.
The trailer was released on Youtube a few days ago: https://www.youtube.com/watch?v=rFBsNOTXEIg
Please share it with anyone that might be interested! Or if you have any idea of who or which group might help us spread the word we would be very grateful.
If you want to keep updated with our progress on the feature film, please like: http://www.facebook.com/pages/Daughters-of-Dolma-The-Spiritual-Journey-of-Buddhist-Nuns-in-Nepal/198064993570663
Contact: daughtersofdolma@gmail.com