Tibetan Tattoos Eternal
Tibetan Translation, Free Tattoos Designs
Tibetan Tattoos 'Eternal' translated into two tattoo lettering fonts. Tibetan script makes for beautiful symbols for guys or girls!
Here is another Tibetan Tattoos translation for the word 'Eternal' - existing at all times without change; immutable. This time it's written in two different Tibetan tattoo lettering fonts so Tom, my client could have a choice. Please read his letter below the translation...
Tom's is one of the tattoo names that will be featured in the next Tibetan Life newsletter. Sign up today and I may translate and feature you in the next one!
Keep an eye out for my new Tibetan tattoo e-book coming soon...! E-zine subscribers will get a fabulous discount and a free first chapter.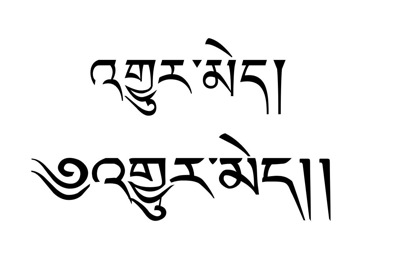 I'm from Liverpool, England. I work with people who have learning disabilities and have done this for 14yrs. I taught Horticulture and then switched to Computers with them, which they love doing.
I have recently just had a tattoo on the right underside of my right wrist. I just had the word Love inscribed. Powerful word to me!
I would appreciate if you could do Tibetan tattoos translation for the word Eternal as i think this would be nice on my left wrist. I had a friend who took up Buddhism awhile ago now and this is the center she's at or was http://www.meditationinliverpool.org.uk/DKBC/index.html
I know of the cause and the treatment from China towards Tibet. I've just read your website profile and enjoyed reading it. I will pass by your website from time to time.
Love and Peace
Tom



Do you have a Tibetan tattoo that you want to share with us?
You have a beautiful and unique Tattoo, we know you are dying to show it off. Come on now, don't be shy, let's hear about it!
What Other Visitors Have Said
Click below to see what other visitors to this page have said...

Projections Of Words of Wisdom Not rated yet
Quotes that we hear and read throughout our lives can have a wonderful affect of our path. Let's face it, sometimes just a slight distinction in the way …
Return To Tibetan Tattoos

Return From Tibetan Tattoos Eternal To Tibetan Life Homepage