Tibetan Tattoos
Hail to the Jewel in the Lotus
by redfairy
(philippines)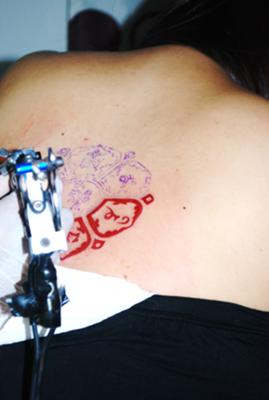 stencil :)
As I am searching the net for pictures of tattoos, mostly feminine such as: butterflies, birds, fairies, flowers, kanjis..... none of em seem to satisfy me until I have been drawn closer to my next ink...


Found myself researching on Tibetan scripts and symbols when I happened to realize that I'm searching more of the meaning of OM Mani pad me hum... found it intriguing at first because I really couldn't find an exact meaning to it. Took me almost three months before I finally found and understood what it is all about...
Until then, It has been a part of my life, Kept on reciting it repeatedly, any time of the day...
yes, I assume you are about to ask for the meaning, please, do me a favour... Do research... goggle is our friend. You'll appreciate this mantra if you are the one to "read-between-the-lines".
See more tibetan tattoos
here